Trust
Talk

8
43,430pages on
this wiki
Category page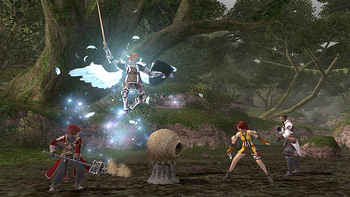 Trust spells call forth Alter Egos of NPCs.
You can call forth up to 3 Alter Egos at a time. In addition to this, you can also call your Adventuring Fellow.
These alter egos support you in battle with the strategies and tactics you've come to expect from them.
Trust magic can only be cast when solo and not already involved in battle.
Trust NPCs do not affect your experience gain.
Trust NPCs' levels and attributes vary based upon the summoning player's level and/or Item Level.
Trust NPCs are not affected by zone potions obtained in blue caskets.
Trust Magic does not cause magic aggro.
Trust Magic cannot be cast while silenced.
Initiation quests for the Trust initiative are available, and you learn the first spell as you progress. Additional Alter Egos can be unlocked through completing various missions and quests.

Some NPCs, however, can only be obtained by trading specific items to an NPC offering the initiation quest. New Trust spells will continuously be added in future version updates.

Trust magic is not available in all areas or types of battle content, but may be expanded in the future.
Unlocking Trust
After attaining level 5, accept the tutorial quest by talking to one of the following NPCs:
Trust Quests
Trust Magic
Standard Alter Egos
Limited Availability Alter Egos
See Also
Pages in category "Trust"
The following 50 pages are in this category, out of 50 total.