Naja Salaheem
Talk

12
42,567pages on
this wiki
Naja Salaheem
Gender:
Female
Race:
Mithra
Affiliation:
Al Zahbi
Occupation:
Salaheem's Sentinels President
Starts Missions:
Starts Quests:
Involved in Missions:
Involved in Quests:
Trade Invitation Cards after completing Immortal Sentries for Imperial Currency:
Note that Rank 2 for San d'Orians or advancement to Mission 2-3 for Windurstians and Bastokers is required to enter the Chateau d'Oraguille. 5 of the NPCs for Lure of the Wildcat quest are there, and thus access to it is required to get the Mythril piece as a reward.
Titles Given
Assault Rank 1: Private Second Class
Assault Rank 2: Private First Class
Assault Rank 3: Superior Private
Assault Rank 5: Corporal
Assault Rank 6: Sergeant
Assault Rank 7: Sergeant Major
Assault Rank 8: Chief Sergant
Assault Rank 9: Second Lieutenant
Assault Rank 10: First Lieutenant
Assault Rank 11: Captain
Lure of the Wildcat (All Nations): Wildcat Publicist
Battle NPC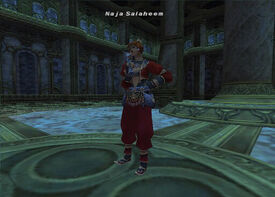 Naja fights alongside the party in the battle for Aht Urhgan Mission 42: Path of Darkness, versus the immortal Amnaf.
It is currently unclear what job Naja is, the only clue lies within her mace and her apparent mastery of the club. However, she shows no other signs of being a White Mage.
Uses Hundred Fists in battle, which would explain Club usage but not magic. Due to this Monk may be her job.
Notes
Don't forget the first Mercenary rule: Doing, not asking - Naja is the leader. You are to obey in sickness and in health, through curses and petrification, to the rest of your life. Don't like it? Tough luck! - Naja Salaheem